It can be confusing when it comes to what is and what isn't covered in a warranty. Nearly 100% of all manufacturers include a copy of their specific warranty in the owner's manual for their products, accessible to the consumer at any time. Many customers don't read their manual and assume any work done after the purchase is automatically covered under manufacturer warranty but this isn't always the case.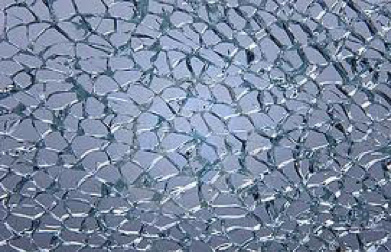 Here is a list of things manufacturers hardly ever cover under their warranty:
Glass, except in cases of thermal shock (see picture at left)
Manufacturer warranties cover manufacturer defects only and most are pretty accommodating with their claims processes. However, they will usually stand firm on operator error, misuse and negligence. Using poor quality pellet fuel, for example, is not covered under warranty. Closing your wood stove door on a piece of wood that is too long for the firebox and breaking the glass- not covered.
Goodwill Policy
We understand that installation day can be pretty hectic and not all the information we tell you is retained, hence our Goodwill policy. Within a reasonable amount of time from the installation, Custom Hearth will send a technician out for a one-time free tutorial of the customer's new fireplace. We will go over operations again, what is normal, what isn't, how to change the batteries, when to call us, etc.
We ask that you always read the manual and understand that as a homeowner, there are certain responsibilities you'll have with your stove:

Wood Units
Basic cleaning of the firebox and glass is required periodically.
Burning dry wood is mandatory. Burning wet wood (even if you think it is dry) can cause a lot of issues, none of which are covered under warranty.
Make sure your logs are cut to proper size.
Your chimney and appliance should be inspected professionally on an annual basis.

Gas Units
Cleaning of the glass should be done periodically. There are special cleaners for gas units designed to get the build-up that propane and natural gas can leave behind.
Your gas appliance should be serviced and inspected professionally on an annual basis.

Pellet Units
Each pellet unit will spell out in the owner's manual the required basic maintenance the homeowner should expect to perform. This usually consists of emptying the ash bin, cleaning the burn pot, vacuuming the fire box and cleaning the heat exchangers.
Make sure to use good quality pellets. (We really cannot stress this enough).
Your pellet appliance should be serviced and inspected professionally on an annual basis.

Some tips on cleaning your glass
No matter what fuel you are burning for heat, never, EVER use an ammonia based glass cleaner to clean the glass. NEVER.
The glass that is on heating appliances goes by many names, but it is ceramic glass. Heated and the rapidly cooled and able to withstand high temperatures as well as expand and contract as needed with fluctuating heat. Ceramic glass is etched when ammonia is used on it and therefore weakened considerably. Ceramic glass is very fragile, great care should be taken when cleaning the glass and there are special products used for each fuel type.
Also note- if you are using quality fuel, your wood and pellet stove glass should remain fairly clean. If you are getting a creosote build up, either your burn habits or your fuel need to be adjusted.